Dateline: The Grove! Store: Barnes and Nobles! Why: A fictional TV character wrote a book! Who: Nathan Fillion!
How:  First off, you need to know a secret about me.  I'm a geek.  I know it comes as a shock, but there it is.  Part of being a geek is loving you some Joss Whedon.  And (if you're a geek like me) you are a huge fan of Joss Whedon's Firefly and Dr. Horrible's Sing-Along Blog.  And (if you're a geek and a girl like me) you have a huge crush on Nathan Fillion (Firefly's Malcolm Reynolds and Dr. Horrible's Capt. Hammer). And if you have a huge crush on Nathan Fillion, you watch ABCs Castle every Monday at 10 pm.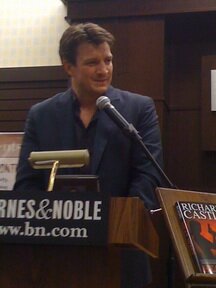 So. Castle.  It's a lighthearted procedural crime show, in which Nathan Fillion plays famous crime novelist, Richard Castle.  To promote the show, ABC decided to put out an actual mystery novel written by the fictitious Richard Castle.  And to promote the heck out of it, ABC decided to have Nathan Fillion go to bookstores and autograph the novels written by his fictitious character from the show.
I got to go to one of those signings.  It. Was. AWESOME!
He is every bit as hunky, handsome, and charming as you might imagine him to be!  He's a sharp dresser and tells great stories about the HIGHlarious hi-jinx which occur on the set of a TV series.
Once he had talked a bit about the show, and answered many questions posed by adoring fans, it was time for him to sign the books his fictional character wrote.  (I should point out that the book is more of an ultra slim novella, and it's a total "Mary Sue" about Richard Castle writing himself into his own story, and as Scott remarked, is the sort of thing that should come from a Happy Meal rather than a book store.  Anyway…)
I waited in line and once I got to the signing table, I made sure to let him know how talented I thought he was, how much I enjoyed the show, and how much I enjoyed his work in the past.  I also gave him a very rare signed edition of Better Living Through Bad Movies! (If you don't have one, you should buy one!  Nathan Fillion has one, and he's super cool. So be cool like him, and get !)
He accepted the book and signed the fake novel by the made-up author, and then shook my hand, thanking me for coming and for being a fan.
And here's where the tale turns tragic.  You see, the next morning I woke up deathly ill.  Fever, cold symptoms, and vomiting.
I had Swine Flu.
And, because I shook his hand, Nathan Fillion — and now probably the entire cast of Castle – also has Swine Flu.
Sorry about that, Nathan. My bad.  Get well soon!