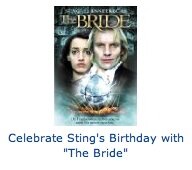 Amazon offered the following party planning notion in an email yesterday, and if I had any doubts about who the online retailing giant likes better, me or Sting, this pretty much clears it up. Still, I'm trying to take their suggestion in the spirit in which it was offered, but I can't figure out how to virtually flip them off (I'm sure there's an appropriate emoticon, but giving someone the finger digitally just seems redundant). So instead of watching The Bride again (because, what with working on the sequel and all, we have fresh hells to visit), I thought I'd put on a little Kool and the Gang and just post our summary of it from .
The Bride (1985)
Directed by: Franc Roddam
Written by: Lloyd Fonvielle
Tagline: "A woman born of electricity…a man driven by passion!"
This film stars Sting, and is probably the best example you'll ever find of Police brutality.
It's a dark and stormy night. Baron von Frankensting is sitting around his ancestral home, Schloss Kardboard Kutout, playing "Mousetrap!" with Quentin Crisp and a crash test dummy. For some reason, the game causes Frankensting's Monster to experience nocturnal emissions, so they pack it in and decide to electrocute Jennifer Beals instead. True to the genre, a bolt of lightning succeeds in giving unholy life to her corpse, but it frizzes out her hair something awful.
The newly animated Jennifer loses a game of "Mystery Date," and the Monster promptly arrives at the lab door to pick her up. It seems that Frankensting is a sort of necrophiliac's Chuck Woolery, but his matchmaking doesn't go very well. Rejected and emasculated, the Monster flees the castle and stumbles blindly into the forest, where he attends a John Bly workshop and attempts to get in touch with his inner corpse.
The Baron, we now learn, is a radical feminist who hopes to use Jennifer to create "the New Woman." Equal and assertive. Fearless as a man. Able to bring home the bacon and fry it up in a pan.
Frankensting sits by the fire, contemplating his utopia of sexual equality, when Jennifer toddles in stark naked, squats at his feet, and begins sucking her fingers. The Baron reassesses his priorities.
Meanwhile, in a cave somewhere in the Alps, the Monster receives relationship counseling from a dwarf.
Frankensting gives Jennifer the Eliza Doolittle treatment, and her education progresses swiftly. Soon she has learned to wear a hoop skirt and spin rapidly in a circle until she projectile vomits. But somewhere in Bavaria, at that very same moment, the Monster becomes urpy, thus proving that there is a psychic link between the Baron's two creations, or that the curried wurst the Monster had at Oktoberfest isn't agreeing with him.
Frankensting takes Jennifer on a field trip to a mausoleum, and a pleasant time is had by all, picking through the loose femurs and ulnas. But the Baron becomes insanely jealous over Jennifer's infatuation with a rotting skull, and refuses to show her his bone.
By this point, Jennifer has become sufficiently refined that the Baron and Colonel Pickering decide to take her to the Embassy Ball, where she meets the extremely blond Cary Elwes, who is dressed in a Prussian Hussar's uniform and looking slightly more Aryan than Beowulf. Predictably, Frankensting becomes jealous of Cary's skull, and runs off to hide in his secret fort and smoke crack.
Later, in an astonishing scientific breakthrough, the Baron invents glitter, and throws a party to celebrate. But when he peeks into the master suite and finds Jennifer and Cary making out, he goes ballistic, because his parents are coming home soon and he told everybody to stay out of their bedroom.
Even later, Jennifer goes to Cary's house, and in a tender, erotic scene, they strip down to see which one of them has the frilliest underwear. This triggers the creatures' psychic link, and the Monster, who lies chained and rotting in a dungeon somewhere, finds his nipples becoming perky.
All this talk of engorged nipples finally proves too much for the Baron, and he snaps, becoming so sexually abusive toward Jennifer that Louisiana Senator David Vitter tries to hire him as his chief of staff. Suddenly, the Monster bursts into the room to rescue her, but has second thoughts when the Baron chases after him with a torch. They run all over the castle in a weird, pyromaniacal Benny Hill sketch, until Frankensting, after several attempts, finally succeeds in falling off the tower. And while the Baron's death doesn't exactly come as a surprise, it does answer a question the audience has been asking with increasingly impatience for the last 90 minutes: Sting, where is thy Death?
As the superimposed face of a dwarf looks on and recites weird platitudes like Obi-Wan Kenobi, the two reanimated lovers go to Venice, where their rotting bodies cause a cholera epidemic that winds up killing Gustav von Aschenbach. The End.