From Tuesday?s LA Times:
Invoking the memory of more than 270 service members buried at Arlington National Cemetery who have died in combat since the Sept. 11 terrorist attacks, President Bush vowed Monday to honor them by ?completing the mission for which they gave their lives.?
Finally, the President is making sense. It?s clear that the only way to truly honor those who have died in Iraq is to make sure they?ve got plenty of company at Arlington. Basically, Bush feels about American troops the same way Jay Leno feels about Doritos: ?Go ahead and kill ?em. We?ll make more.?
Patriots all over the blogosphere heave a sigh of relief, for it?s obvious from his remarks that the President isn?t considering a withdrawal, redeployment, or even a graduated drawdown of our military presence in the Middle East. And thank goodness. After all, from the neo-con perspective, we don?t need an exit strategy, since it was hard enough to get into Iraq in the first place. Bill Clinton wouldn?t let them in, no matter how nicely they dressed or how hard Paul Wolfowitz flirted with him, and it was just sheer luck that Bush was working the door that one night and Condi had really cute shoes on and we were able to slip past the velvet rope and set up a provisional government while the manager was in the back stairwell doing some blow. Therefore, to withdraw from Iraq now would be imprudent if not catastrophic, unless we first got our hand stamped.
As Jonah Goldberg, Rich Lowry, Max Boot and other latter day Sun Tzus have pointed out, the problem isn?t that we?re losing the war in Iraq, the problem is that America doesn?t believe the people who keep telling us that we?re not losing the war in Iraq. In other words, the issue isn?t product performance, it?s spokesmodel credibility.
Which brings us back to Doritos and our honored dead. In the beginning, the Iraq War was every bit as popular as Mini Cool Ranch Flavored Tortilla Chips, because like Jay Leno, the American public found President Bush affable, unassuming, and trustworthy (and because nobody accused you of being a Fifth Column in the Clash of Civilizations if you pointed out that Doritos have a lot of saturated fat, and you?d rather just have some Triscuits, or maybe a Rykrisp). Nowadays, Bush?s approval ratings dangle in the mid-30s, while the public increasingly views the invasion of Iraq as a mistake, and the ensuing low intensity conflict as a quagmire. Clearly, the manifold challenges facing the U.S. military in Iraq?tribal and ethnic rivalries, irreconcilable religious conflicts, the influence of regional powers with goals antithetical to our own, and insufficient resources to prosecute a successful counter-insurgency strategy?means that we must gird our loins, summon up the blood, and solve this problem in the traditional American way: through advertising.
Again, let?s look to Doritos for our inspiration. In the beginning, Frito-Lay?s corn-based snack items were promoted by NAFTA entrepreneur The Frito Bandito. Eventually, after a highly successful career as a TV pitchman, the Frito Bandito noticed that he was a racist stereotype filched from the last reel of Treasure of the Sierra Madre, and retired. Enter Jay Leno. Eventually, after a highly successful stint hawking artery-occluding junk food, he noticed that his lantern jaw awakened racial memories of the bloody struggle between Cro-Magnon humans and Ice Age Neanderthals, and he went back to making jokes about Clinton?s schlong.
So if we can replace current spokesmodel George W. Bush with someone more sincere, the war will immediately become popular again, and people like Jeff Goldstein and the Powerline boys can calm down and replace their current shrillness with their former smugness. But who can America turn to in this dark hour to restore hope and faith in George Bush's war? Well, to us the new candidate is obvious:
Dick Cheney.
After all, fat, balding white men are the most trustworthy people on the planet. Remember Walter Cronkite? He was the most trusted man in America. And what about Wilford Brimley? Didn?t that wrinkled, jowly face and walrus mustache make you want to rise at the crack of dawn and shovel down dehydrated oatmeal? Of course it did, and Dick has all the same qualities. In fact, if Quaker Oats had half the brains President Bush has, they could have enjoyed Dick?s services all through the 1980s, since he was just a congressman, and once you?ve voted against Head Start, against a resolution calling for the release of Nelson Mandela, and against establishing a holiday to honor Martin Luther King, your afternoon is pretty much free. Anyway, we think it would have gone a little something like this?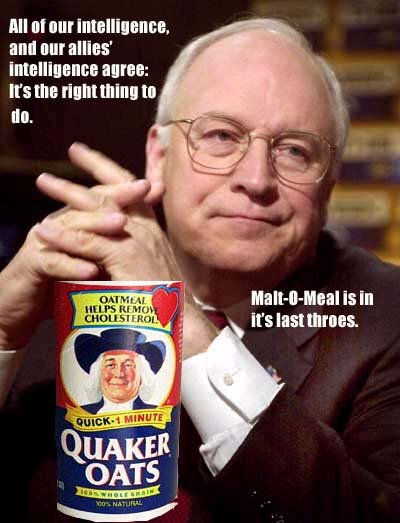 (In the interest of full disclosure, some people have pointed out that Dick Cheney has an 18% approval rating, while Wilfred Brimley has 2478 friends on , and apparently so far hasn?t shot any of them in the face.)