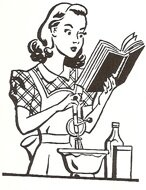 You know, people often stop to ask me, "Mary, what's the surest way to a man's heart?", and I always respond, "A sharp knife and a tire jack to crack open the rib cage!"
Then, based on their expressions, I realize they were just making small talk about food, and I've over-shared again. Which is good, actually, because it turns out I know more about food than improvised open heart surgery, anyway.
I went shopping at our local Fresh & Easy (because, let's face it, if you get enough wine in me I become both those things). I was planning on making hamburgers for dinner that night, but the whole idea just bored me to tears. And then I saw it. Jennie O's Lean Ground Turkey–Italian Seasoned! Ooooh.
Now, I've used this before, in lasagna and a skillet thing I whipped up on another occasion, and it suddenly gave me an idea for a new, non-boring, non-weep-worthy dish: Bruschetta Burgers!
Bruschetta Burgers
(serves 4)
1 pkg of Jennie O's Italian Seasoned Ground Turkey
4 slices of Mozzarella Cheese
2 Roma Tomatoes, sliced
1/2 loaf of Focaccia Bread sliced into buns (at Fresh & Easy, they sell sandwich-sized focaccia buns — 2 to a package)
4 oz of fresh basil
2 cups of your favorite red pasta sauce
Olive Oil baking spray
Directions
Form the ground turkey into 4 uniformly sized patties. (Tip — make sure they are fairly flat. They tend to plump a bit during cooking and it makes for a messy mouthful when eating.)
Cook the patties the way you would cook any other burgers, whether on the grill or stove top, until the juices run clear. Set aside when done. (I cover mine with foil to keep them hot)
Apply olive oil baking spray to a baking pan. Place the focaccia buns inside and spray them with the olive oil baking spray. Bake them at 350 degrees for 3 to 5 minutes.
Heat the pasta sauce according to directions.
On a plate, place the sliced mozzarella, sliced roma tomatoes and basil leaves (use the larger ones if you have them, they take the place of the lettuce you would have on a regular hamburger).
When the focaccia is done, use a basting brush to apply the pasta sauce to each bun.
To build your Bruschetta Burger, place one slice of mozzarella cheese on top of the burger, top that with basil leaves, top that with roma tomato slices. (I also had some balsamic vinegar salad spritzer that I sprayed on the basil and tomato for extra flavor)
Serve with a Caesar Salad.
I would have a picture right here, but I forgot to take one. (We were hungry. So sue us.)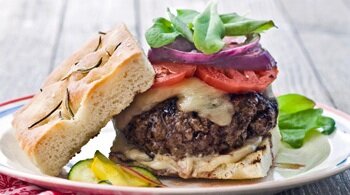 Artist's conception.
Let me tell you — for something I came up with on a whim, it came out great. The focaccia bread went wonderfully with the pasta sauce and the burger. The basil gave it a nice sweetness, but the roma tomato and the balsamic vinegar kept it from overpowering the whole burger. And the mozzarella cheese? Please. Is there anything better than mozzarella? I ask you!
So. There you go. Bruschetta Burger. Tell your friends.