Occasionally, we like to take a break from the relentless pace of blogging around here (Ahem!), to answer some of the deep and earnest questions that Google deposits on our doorstep like so many flaming bags of dog poop. Some are quick, Yes or No affairs, while others require a bit more time-intensive exploration. And, like Shake 'n Bake, you can help!
1. What would turn toilet seat purple? Well, as we all know, purple is the color of royalty, and the toilet is colloquially known as "the Throne," so I guess marrying Prince Charles would be enough to do it.
2. Rush Limbaugh attractive: No. Next question?
3. putting pens in you're ass: While this can certainly be done, it tends to make calligraphy much more challenging.
4. [NOTE: These next few queries are all thematically related, so I'm going to treat them as a single question]
(a.) boners in public
(b.) boners in school
(c.) boners in class
(d.) 13 year old with boner
Yes, you appear to be doing it right. Congratulations and FTW! as the kids say.
(e.) Great American boners
This is a medical condition that can result from excessive Teabagging, or exposure to Sarah Palin in running shorts and pantyhose.
(f.) How to get a boner
Please see Question 4, Section (e.).
(g.) boner police
This was a short-lived procedural series on Cinemax.
5. armpit groping movie: This was the Disney Channel's short-lived attempt to compete with Cinemax After Dark. The musical numbers were quite peppy.
6. Hitler pee: Look, I'm all for fan service, but this is what we in the business call a "narrow niche."
7. Wacky and fictitious platypus: That would be Paranoid P. Platypus (AKA "The Megalomaniac Monotreme"), who in 2007 was adopted as the official mascot of the Department of Homeland Security.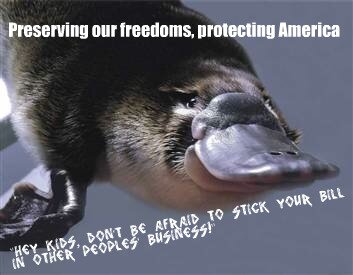 Much like the U.S. Forest Service's Smokey the Bear, P.P. Platypus puts a kid-friendly face on important issues like enabling police state overreach, Quisling-style collaborationism, and squealing on your friends.
8. Lake gaga nude: Well, if you must go skinnydipping, I can't think of a better place.
9. selsun blue shampoo fetish: "My junk is tingling, so I know it's working!"
10. pubic hair oops: "Alex, I'll take Things You're Likely to Hear at Lake Gaga for 200."
I don't claim to have all the answers, of course, so in the interests of Open Source development and the unfettered exchange of ideas, I'm appending three additional questions for our commentariat to tackle. (The first one is in honor of D.Sidhe, but everyone feel free to pile on.)
1. druids trick or treating for virgins
2. "the secret" proof
3. definition of mexican Halloween sex position
Enjoy.