I'm sure you remember RenewAmerica's A.J. DeCintio, the retired teacher who "first exercised his polemical skills arguing with friends on the street corners of the working class neighborhood where he grew up," and who now makes a living as a model for Take a Lap!, the fashion catalog for men who want to look like a middle school P.E. coach.
Liberals discover the root of evil

Pity the perverse loves.
Um…okay.
Why?
Oh — it's a question?  I thought "Pity the perverse loves" was either an aphorism your grandma stitched on a sampler; or maybe it was Rerun's hilarious catchphrase from What's Happening Now!!
Well, while most of us agree with our ancestors…
I don't.  My ancestors were jerks.
…who, for millennia, recognized them as roots of iniquity, liberals and other Democratic leaders have given them the boot, claiming to have discovered "the" root of all evil (and it's not money).
Why are definite articles all so "ironic" nowadays?  Anyway, as our ancestors always said, don't boot "the" root.
Before I reveal this singular, frightening reality the nation's self-anointed paragons of rationality profess to have uncovered, I'll list some other things it is not.
And you'll want to stick around until he reveals "this," because as Coach DeCintio tells us in his bio, he "he now applies those [polemical] skills, somewhat honed and polished by experience, to social/political affairs."  Let's watch him polish.
It is not the world's dictatorial, murderous Marxist heroes, madman Mao, for example, whom an Obama appointee praises as one of her favorite philosophers.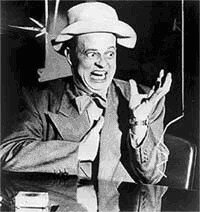 Turns out, it was Madman Muntz.  And while he's not one of Anita Dunn's favorite philosophers, he can get you a better deal on a 4-track car stereo.
But never mind that — there's still more stuff it's not!
It is not the immorality of the generational theft that has characterized the federal government's budgets for 50 years.
Coach DeCintio has inspired me to come clean and admit something that has always shamed me.  When I was 11-years old, I was busted for shoplifting a generation from the A&P.  But since it was just that whiny Generation X, they let me off with a warning.
It is not the danger of change agent Obama's program to double the national debt in the next eight years.
I hadn't heard about that program; I guess Obama must be a secret change agent.
It is not the cowardice and duplicity exhibited by post-everything Obama as he refuses to say exactly what tax increases and entitlement decreases will be necessary to avoid the disastrous explosion just mentioned.
He's post-everything?  Post-Apocalypse?  Post Emily?  Postum?
It is not the dangers to freedom and prosperity inherent in the liberal/Democratic love of centralized power.
It's the humidity.
It is not the tyrannically insulting unfairness of the "Louisiana Purchase," the "Cornhusker Kickback," the "Union Payoff," and the hundreds of other abominations
Look, I'm sure your wife appreciates the effort, but if it's making you feel that inadequate, just stop reading the Redneck Kama Sutra and go back to the "Missionary Position."
It is not the democracy and Constitution scorning notion advanced by Nancy Pelosi and her gang that a piece of legislation can be "deemed" passed
"Excuse me, Miss…Where are the scorning notions?"
"Third floor, next to the contumely and linens."
It is not the ugly, human rights hating nature of the ethos promoted by Islamist psychopaths.

But it is ……………….. Fox News.
Would that be "the" Fox News?  And who knocked over my jar of ellipses?
They quote from former DNC chair Howard Dean, who declared that FNC's coverage of the Sherrod firing "was absolutely racist" and then (in English perfectly worthy of a raving buffoon) went on to condemn the network for "pushing a theme of black racism with this phony [emphasis added] Black Panther crap and this business [sic] and this Sotomayor [sic] and all this other stuff."
Of course, that response is deserving only of the bitter Swiftian sarcasm of, "And this they call the triumph of reason."
That's kind of a weak rejoinder for the author of A Modest Proposal.  Maybe the Coach is quoting Tom Swift from Tom Swift and His Sucky Sarcasm Machine.
This supreme irrationality is further highlighted by the fact that in smearing FNC, liberals behave as if a "right-wing" (to use Rich's term) bias has permeated television news since the fifties.

However, the truth is this:

When fifties TV execs (who had honed their entertainment skills in vaudeville) created the character of Uncle News Anchor, they overwhelmingly chose left-wing actors to fill the roles, a reality that has persisted to this day.
It's a funny coincidence that we were just talking about Walter Cronkite, because even today a lot of people don't know that he was originally played by Blacklisted actor Zero Mostel, and later by Will Geer.
Moreover, those execs packaged Uncle so cleverly and the actors did their job so well that by the seventies, one Uncle was deemed by a majority of the public to be "the most trusted man in America."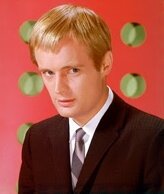 That man, of course, was Ilya Kuryakin, who wasn't even an American.
Swift would appreciate the irony.
"The most trusted man in America" — Even though the viewers of Newton Minow's "wasteland" had absolutely no idea about how Uncle chose what news to report, what news to ignore, what news to repeat, what news to let die, which "newsmakers" to put on film (never live), which to ignore, which film to use (often ad nauseam), and which to leave on the cutting room floor.
Well, actually UNCLE had a pretty simple rule.  If a story was called "The (Something) Affair," it was pretty much guaranteed a spot on the Six O' Clock News.
Not to mention that in those days, the public, still in awe of the technology that brought us the "boob-tube,"
I remember I was so floored by the mere existence of television in the 1970s that frequently, while gazing awestruck at The Hudson Brothers, or Match Game '72, I would abruptly scream, "WE ARE LIVING IN THE FUTURE!"
…bought into television's feigned verisimilitude and therefore failed to perceive how Uncle and his identical-twin minions influenced "the news" in more subtle ways, for instance by their choice and intonation of words as well as by smiling, scowling, or even slightly raising an eyebrow.
This propaganda technique, known as "the Big Smile," was pioneered by Goebbels after Nazi scientists, working at a secret underground installation at Peenemünde, developed a fast acting tooth whitener.
The clones of Cronkite, of course, were created in the final days of the war by Josef Mengele, as recounted in the book, The Uncles from Brazil.
That supremely dangerous, parochial, pretentious, and, irony of ironies, illiberal vision of news was, however, perfectly fine with liberals and the Democratic leadership because, as Huck Finn might have observed, "It's how they would have done it themselves."
And if Huck had to choose a news purveyor today, he'd almost certainly select  Fox News, because at least they're not afraid of the "N"-word.
Finally, for those who demand still more evidence in support of the notion that perversity underlies the liberal/Democratic demonization of FNC, I close with this:

Given the constancy of human nature, it is impossible that liberals have booted the perverse loves to the line of the unemployed.
Ah, see?  I knew it would all make sense in the end.