Dear fellow Crapiers, please join me in wishing a festive natal anniversary to our own MaryC — wife, relief blogger, gifted cook, preternatural cat whisperer, and heroic inner city school teacher. (To say nothing of the high yield karma she's accumulated from putting up with me these past many years.) And she's cute, too.
As you'd expect from a day that's produced such a lovely and delightful woman, March 26 is a date which has historically been rich, ripe, and teeming with incident.
1830 – The Book of Mormon is published in Palmyra, New York. Fans of the book, called "Mohards," immediately split into "Team Nephi" and "Team Moroni."
1967 – Ten thousand people gather for the "Central Park Be-In" in New York City, officially kicking off the so-called "Summer of Verb Conjugation."
1976 – Queen Elizabeth II sends out the first royal email, from the Royal Signals and Radar Establishment. It's an ad for penis pills.
1995 – The Schengen Treaty goes into effect, finally outlawing Schengens and Schengen-related program activities.
1997 – Thirty-nine bodies are found in the Heaven's Gate cult suicides. Confused Blockbuster clerks immediately remove all Michael Cimino films from the shelves.
1999 – The "Melissa worm" infects Microsoft word processing and e-mail systems around the world. Queen Elizabeth's "herbal Viagra" business never recovers.
March 26 is has also traditionally been a favorite day for distinguished authors to drop dead:
1892 – Walt Whitman, American poet (b. 1819)
1959 – Raymond Chandler, American-born novelist (b. 1888)
1969 – John Kennedy Toole, American author (b. 1937)
1973 – Noel Coward, English composer and playwright (b. 1899)
and if I were a better writer, I'd be feeling extremely nervous right about now. Also died today:
304 – Saint Emmanuel, Christian martyr killed by the Romans for walking around nude, poking Senators in the chest.
On a happier note, Bill S. sent us a list of luminaries who were born on March 26, including:
Robert Frost
Tennessee Williams
Rufus Thomas (R&B singer, father of Carla Thomas)
Bob Elliott, funny human.
Sandra Day O'Connor, Supreme Court Justice
Leonard Nimoy, Vulcan
Alan Arkin, award-winner actor, onetime folk musician (he co-wrote "The Banana Boat Song"!)
James Caan (Brian's Song was probably the first tearjerker I saw that…actually jerked my tears. Which sounds more vulgar than I meant it to)
Nancy Pelosi
Erica Jong
Diana Ross, singer, actress, inspiration to 78,888,999 drag queens since 1963. At least.
Johnny Crawford, former child actor.
Steve Tyler, big-lipped rock superstar.
Vicki Lawrence, funny human and singer of the cheezy pop hit, "The Night the Lights Went Down In Georgia".
Teddy Pendergrass, R&B legend
Ernest Thomas, actor ("Raj" on What's Happenin'. No relation to Rufus or Carla.)
Curtis Sliwa. Guardian Angel/dick
Leeza Gibbons, perky human.
Jennifer Grey, frequent Patrick Swayze co-star. Owner of dull, reconditioned nose.
Kenny Chesney, frequently shirtless country singer.
Keira Knightley, attractive female movie star person
T.R. Knight, actor who pissed off Isaiah Washington
Thanks, Bill! Now let's check Mary's horoscope…
Mercury's sextile to Venus in your Solar Return chart indicates a generally clear mind and improved relationships with younger people.
Which hopefully means your first graders won't suddenly realize they have the advantage of numbers, and fatally swarm you like a pack of Killer Shrews.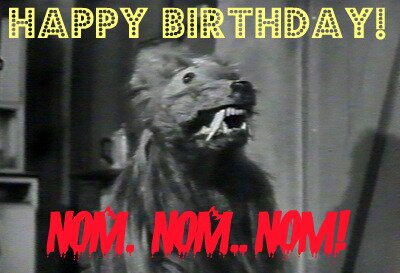 Jupiter trines Saturn and sextiles Neptune at the time of your birthday this year as well…
Good Lord, who planned this birthday party, Aleister Crowley?
…helping you to focus on constructive goals with pleasure.
Yeah, I'll bet.
Mars conjuncts Neptune and opposes Saturn. Saturn and Neptune's influences are contradictory.
Only one way to settle this…Release the Kraken! (Hey, we all have our pet name for it.)
And since I've been looking at Ann Coulter's mug all week (she was apparently thrown out of Canada for inappropriately touching the dancers in the Champagne Court, even after she got a warning from the bouncer), I've decided to forgo the traditional photo. Instead, here's your damn dirty Nate.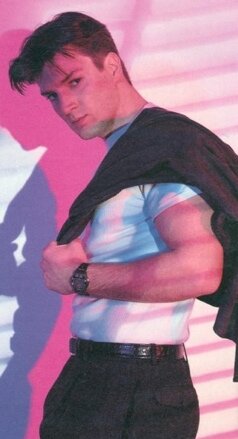 Nathan Fillion goes undercover as Sonny Crockett to bust drug lord Ken in Barbie's Malibu Dream Crackhouse!
Happy Birthday, Mary.