Christmas is fast approaching, and as I'm not a Christian, I always like to solicit some expert advice on the True Meaning of the Day before I bake my cookies and trim my tree. Usually I consult with Linus Van Pelt, but he's in Branson performing his one man show, "Lights, Please" so this year I'm stuck with Matt C. Abbott.

You may remember Matt as the "Catholic columnist" for RenewAmerica whose columns largely consist of material written by other people — often emails from arch-conservative clerics who delight in feeding Matt table scraps of crazy, outraged but obscure laypersons, or citations from distinguished anti-semites. He's actually more of a conduit than a pundit, a sort of urethra for the golden wisdom that showers down upon us from the religious right. But when on occasion Matt does write an original sentence, he makes the most of it, such as the opening to this week's piece:
Sad to say, I'm afraid Congress has just infected our military with "spiritual AIDS," if you will, by repealing DADT — much to the delight of the homosexualists in our midst.
Ordinarily I'd be tempted to respond to this sort of thing, but I dislike kicking a man when he's down, and later in the column Matt confesses that he's recently been diagnosed with a "moral hemorrhoid."
But speaking of rectal decorations — or rectorations, as they now call them in the military — I've waded into the shit to take some recon photos of the War of Christmas. And the first combat zone visited was the IMAX theater at Universal Studios.
However, judging by the landscape and architecture, it's apparent that even after the War on Christmas turns hot, the holiday itself will survive in a futuristic, post-Apocalyptic environment from which the mutated remnants of humanity will emerge.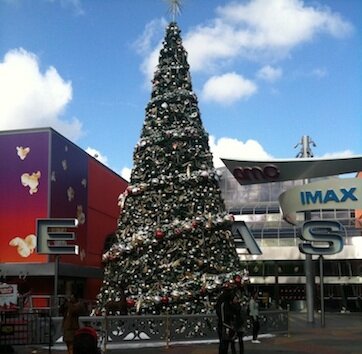 I also noticed that it's helpful when the hectoring admonitions from Big Brother, and the warm, yet urgent suggestions that we pull up stakes and enjoy the good life in the Off-World Colonies is delivered by a floating, 15-foot high Tori Amos: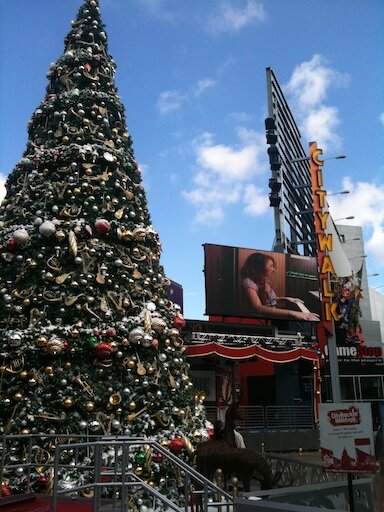 Now if you'll excuse me, I'm off to go celebrate both the passage of DADT repeal and this happiest time of the year by spreading some Holiday Herpes.