(A cordial welcome to all the folks arriving via stumbleupon and pewsitter.com. Update below.)
On May 9, 1960, the FDA approved Enovid, the first oral contraceptive, which means that yesterday The Pill turned 50. Now ordinarily we don't do birthday posts for pharmaceuticals, but there are a couple good reasons for making an exception in this case. First, half a century is a major milestone, and means The Pill will now have to get regular prostate exams, which is unfair or ironic, I'm not sure which. Second, it's driving all the Papist Anti-Pillers into a frenzy of frustrated fertility.


Matt C. Abbott is "a Catholic columnist," who writes in the tradition of Desiderius Erasmus and Henry of Ghent, bringing a scholarly and classical perspective to complex theological issues by drawing upon his "Bachelor of Arts degree in Communication, Media and Theatre from Northeastern Illinois University." But while Brother Abbott is firmly grounded in the Humanities, he also brings a rigorous epistemological approach to ontology, in the manner of William of Ockham, by virtue of an "Associate in Applied Science degree in Business Management from Triton College in River Grove, Ill." which means that he took a junior college night course and totally knows how to work a cash register and one of those laser things that scans bar codes.
I've never bothered with Matt in the past because his writing usually consist of long excerpts of someone else's writing — emails from cranky retired priests that are too long to print in the South Bend Tribune letters to the editor column, for instance — so he's kind of hard to mock. But this week, perhaps inspired by the Golden Jubilee of the Zygote Holocaust, he offered up a title I just had to share with you:
Has 'the pill' caused drive-by shootings?

Judging by the laudatory articles on the birth control pill popping up all over the Web in recent days, one might conclude that the pill was in fact the greatest invention since sliced multigrain bread.
Why did Matt feel the need to update the classic cliché, "the greatest invention since sliced bread?" Because The Pill is taken by Feminists, who are into that crunchy, Birkenstocky granola stuff, and by adding the word "multigrain," he signals that he is playing a deep and subtle game here. However, he sort of peaks in the first paragraph, since the rest of the column is, as usual, just stuff he lifted from other people, including a prominent contributor to neo-nazi periodicals (Matt, to his credit, admits the guy is "controversial").
This week Brother Abbott starts off with a snippet from a Washington Post piece by feminist historian Elaine Tyler May, who wrote, unsurprisingly, about the history of The Pill and how it remade motherhood for the better, then he segues into a bit of guilt by association ("May's fondness for the pill — actually, she seems fonder of the morally bankrupt Margaret Sanger than of the pill itself") before bringing in someone else to refute her. In this case, it's "Chicagoan Eleanore Veronika Strong," who doesn't appear to be a historian, or to have done much to impress Google, but we're six paragraphs in and Matt really needed someone to spell him at the keyboard:
"It always strikes me as ironic when self-proclaimed feminists like Elaine Tyler May…"
A lady always waits for a gentleman to open a door, pull out her chair, call her for a date, or proclaim her a feminist. Remember girls, if you're a serious advocate for sexual equality, you'll play by The Rules.
"Moreover, why would she further enable such a man's behavior by ingesting hormones to suppress her body's natural functioning so that she can be sexually available to him with no investment or responsibility required on his part?"

Strong says that "women are most liberated when they set boundaries that encourage men to accept and respect them exactly as they are."
The Equal Rights Amendment would have passed back in the 70s and women would have spent the last few decades enjoying equal pay and opportunities for professional advancement if they'd just insisted on risking pregnancy every time they had sex. If you ain't fertile, you aren't liberated.
She also advocates the use of natural family planning for married couples, which the Church approves.
Along with exorcism.
"If a couple has discerned that they have a serious reason to avoid conception, periodic abstinence during the woman's fertile periods is a beautiful way for a man to demonstrate restraint, maturity, and ultimately love for his partner."
Stock up on plenty of porn and Kleenex to increase the beauty.
Wow, Matt wrote a whole sentence of that last paragraph, he must be exhausted. Who can he quote next? Ah, it's Dawn Eden, authoress of The Thrill of the Chaste: Finding Fulfillment While Keeping Your Clothes On. From Publishers Weekly:
Eden herself is a convert to both Christianity and chastity, and now an unmarried 30-something, she's persuaded that chastity is more "hope-filled" and "vibrant" than sex outside of marriage. She draws on John Paul II's theology of the body to explain why Christians should reserve sex for marriage; "our bodies are living metaphors of God's loving nature," she argues, and to have sex casually is to make a false promise of total commitment. Eden doesn't just theologize—she gives practical advice about…masturbation (avoid it—you'll just feel lonely afterward).
When you're telling women not to masturbate, should you really use the word "vibrant?" Seems like you're kind of undermining your own presentation. (As we've mentioned here before, Dawn is working on a follow-up book for gals who want to use their new found virginity as a selling point in landing Mr. Right, entitled Hi Men! I've Got a Hymen!) Anyway, Dawn steps onto the rubber and pitches a quick couple of relief paragraphs:
If the pill made motherhood 'better,' then one would expect that mothers would be happier now than they were in 1972, before the birth rate fell dramatically as contraception use expanded. Instead, as a recent report by researchers at the Wharton School of Business shows, between 1972 and 2006, the happiness of U.S. mothers fell just as dramatically.
Speaking from my own experience, I have to to admit that Dawn makes a good point. My mother was definitely much happier in 1972, in large part because she was stoned on Valium. But 1972 is an interesting date to pick, since that's the year Eisenstadt v. Baird was decided by the United States Supreme Court, giving single women the same access to The Pill that married women had enjoyed since Griswold v. Connecticut in 1965. That might explain the increase in contraception use. In any case, while measuring the happiness of mothers, we should probably factor in the happiness of women who were now no longer forced to become mothers (along with middle class wage stagnation, the decline of American manufacturing, the rise in divorce rates and a bunch of other social issues that weren't caused by oral contraception, but still might affect maternal happiness.)
"Clearly, from the point of view of general trends, the pill's enabling women to have fewer children does not make for 'better' motherhood, if 'better' means happier. Nor can it be said to make for better mothers from the child's point of view, since using contraception makes it easier for women to commit adultery.
And unregulated fertility makes it easier for women to die from complications of childbirth. So what's it gonna be, kid? Your mom can be Madame Bovary, or a corpse. Take your pick…
In fact, [May] shows no visible concern for children's well-being at all — which isn't surprising, given what she's pushing. By encouraging a culture of radical individualism that treats children as accessories, the pill has created a generation of 'wire monkey' mothers."
Some kids prefer that: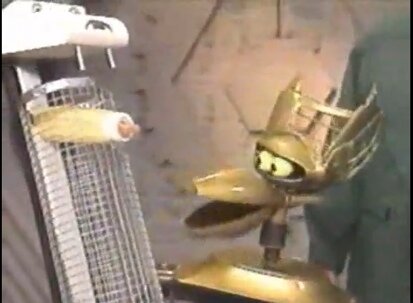 But enough of these women and their opinions. What do neo-nazi men think about The Pill? Matt?
Finally, author E. Michael Jones (yes, I know he has some controversial writings on other subjects) has an interesting take on contraception and its effects on American society:
Interesting is scarcely the word. Personally, I think Dr.. Jones is by far the most quotable of the day laborers Matt hires out of the Home Depot parking lot to mow, mulch, and fertilize his column. But first, let's do a cursory bit of due diligence on those "controversial writings" — fortunately, Dr. Jones is much more popular with Google than Mrs. Strong.
The Southern Poverty Law Center reports that he "founded Fidelity magazine after being fired as a professor at South Bend's Catholic women's college, St. Mary's" in 1981.
In 1996, Jones changed the name of his magazine to Culture Wars, and he has increasingly focused on the alleged evils of the Jews…that "Jewish media elites" run the country, that Jews are "major players" in pornography, and that Jews are behind Masonry and the French Revolution…He also accuses Jews of poisoning society with thinkers such as Karl Marx (a devotee of Satan, says Jones) and Sigmund Freud (who set off an epidemic of sexual sin, he says). And he describes the World War II Nazi genocide of the Jews as "a reaction to Jewish Messianism (in the form of Bolshevism)." Last April…Jones charged that anyone who went to a mainstream university would emerge "with a Jewish world view … and maybe a Jewish spouse." Jones, who has written nine books and hundreds of articles, regularly cites extremist sources, especially the American Free Press run by veteran anti-Semite Willis Carto.
Dr. Jones has also contributed to The Barnes Review, which is published by the aforementioned Holocaust denier, Willis Carto. But these writings were all on "other subjects." I'm sure he has something completely sensible to say about oral contraception.
The last time I spoke here, I talked about how contraceptives caused drive-by shootings
You know how sometimes you'll be walking through a restaurant, or a store, and you'll catch a fragment of conversation ("…But she wouldn't wear the sponges, and I told her, monkeys are wrinkled!") that's so perfectly incoherent you hope you never learn the context? I almost don't want to read on and spoil it.
…how over the summer of 1965, the regime decided that the contraceptive, not providing jobs for black fathers, was to be the solution to this country's welfare problem and how as a result of this sort of ideological gasoline poured on a social fire, black illegitimacy soared from 20 to over 70 percent.
The one disadvantage to the widepread use of the birth control pill is how it increases the birth rate. Other than that, it's great.
The demographic surge among Catholics that would come to be known as the baby boom was causing people with an eye for demographics, like the Rockefellers, much concern. In fact, the demographic handwriting was on the wall; the United States was on its way to becoming a Catholic country. But the Enlightenment counterattack was waiting in the wings. Ethnic cleansing can eliminate the political power of people in a particular place by moving them some place else, but it will not provide a long term solution to demographic increase, because as the oppressed group increases, it will also take over the areas it moves into. The long-term solution to the 'Catholic problem' had to blunt their demographic power. The long-term solution to the 'Catholic problem' was the contraceptive.
And that's why the Church won't let you use a rubber. The Rockefellers have been locked in a secret shooting war with the Vatican ever since 1925, when Cardinal de Sangre, the right hand to Pope Pius XI, and the man many expected to become the next Pope, was exposed as Margaret Sanger in drag. She had spent five years in the papal halls, spying and passing on the results of the Church Fathers' experiments with the Rhythm Method. Outraged, by this betrayal, Pius turned the cold war hot with a sneak attack on Radio City, and the Rockefellers responded the only way they knew how — by trying to kill his cannon fodder with contraceptives.
"How many divisions does the Pope have," Stalin once memorably inquired, and the answer nowadays, of course, is: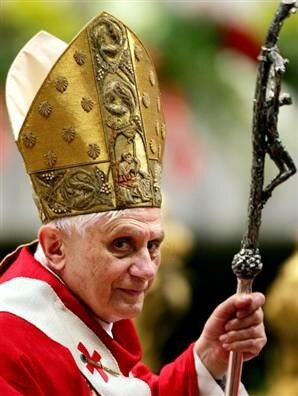 "None! Thanks to The Pill! Gah…! Oh, and you can't have condoms either, because the Brits call them bishops, and that makes me self-conscious about my hat."
UPDATE:
I just noticed that this is not Dr. Jones' first appearance at WO'C. In a 2003 piece about the Christian Broadcasting Network's annual Halloween panic attacks, s.z. wrote:
In Avenging Monsters: The Origins of Horror Fiction, Charles Colson reports on a book by one E. Michael Jones, who says that horror movies reflect sexual decadence, and so presumably you shouldn't let your children watch "Casper the Friendly Ghost."
Per Jones, Percy Shelley was a libertine who made his second wife Mary sleep with his friends. She got tired of it, but she couldn't relieve her conscience "because she didn't understand repentance." So, she wrote Frankenstein. Dr. Frankenstein represents Percy, who wanted to create an "enlightenment sexual ethic," but his creation turns out to be a monster that hangs out with the wolfman and terrorizes Abbott and Costello, thus showing that violating traditional sexual mores causes angry, torch-carrying villagers to burn down your castle. And thus was the horror film born, a hundred years later.
And Dracula is really the story of syphilis — which, as we all know, renders those who suffer from it unable to cast a reflection in a mirror, but which can be prevented by wearing a crucifix.
But even more horrifying:
A century later, another vengeful monster emerged in the wake of the modern sexual revolution: that is, the creature in the 1979 film Alien. The man chosen to create the monster, H. R. Giger, claims he never procured an abortion for his mistress. And yet, Jones notes, "his art is full of images of abortion and dead babies." In any event, Jones writes, Giger's thwarting of child-bearing, through either contraception or abortion, "is so morally significant that it embeds itself onto his consciousness."

And Giger's conscience sought relief by creating a fetus-monster for Alien. At the film's end, a female astronaut kills the monster in a manner that strikingly resembles a suction abortion.

The warning of these films is that "sex disconnected from the moral order is horrifying," Jones writes.

This Halloween, when your kids want to rent a horror film, don't let them. Instead, sit down with them—and with the neighbor's kids, as well—and explain where horror films really come from and why they are perverse. It's a great way to expose the cultural lies that are at the root of our society's celebration of horror.
Yeah, tell them all about wife swapping, syphilis, and suction abortions — that will tramautize them WAY more than even Texas Chain Saw Massacres would. Your neighbors will thank you for enlightening their children this way.