You remember mental health professional Robin of Berkeley, who believes liberals are pathologically joyless because they always look depressed whenever she walks into the room, and who provides the same distance-diagnosis schtik as Charles Krauthammer, but at only half the price and a third of the credentials. Well, she's back, and today she's taking on the Bug Zappers of the Anti-Christ!
It's funny how trivial events somehow get seared into your brain.
Or into your column.
This one is from years ago, when I was enjoying a yogurt on Telegraph Avenue in Berkeley.

Suddenly, a large exotic bug appeared and started dancing around. Its iridescent colors caught the sun and glistened like a rainbow. A crowd formed to watch its antics in shared delight.
It's funny how the trivial events in your life sound like they were stolen from a Warner Brothers cartoon.
Out of nowhere, a lunatic pushed through the crowd. I'd seen this guy before — paranoid, menacing. His rage toward the bug slit me like a knife.
I may be going out on a limb here, but I'm willing to bet that, in the 1500 year history of the English language, this is the first time anyone has written that particular sentence (at least since the Great Vowel Shift).
The insect was getting attention, people were happy, and he was out for revenge.
He'd already pithed Michigan J. Frog for a similar offense.
The man bolted through the crowd, possessed. He jumped on the bug, over and over and again. People gasped. A child cried. And then, as quickly as it began, it was all over.
This is bringing up memories — repressed, horrible memories! — of that tragic day when my Dad took me to the Flea Circus, and a lunatic stepped on the acrobats.
Silently, numbly, the crowd dispersed. The man, now triumphant, smiled hideously. I threw away the yogurt, which was now rendered tasteless.
I know exactly how you feel, Robin. I haven't been able to touch Cheez-Wiz since I saw a hobo swat a Pacific Dampwood termite.
I'll never forget the look of blind hatred on that man's face. It communicated this: "I want what you have."
"…a chitinous exoskeleton and a segmented thorax."
And: "If I can't have it, I'll destroy it."
He punctuated this threat with insane, cackling laughter, then asked, "Is that from Pinkberry? You gonna finish that?"
This random experience flashed in my mind recently when I was in a Berkeley bookstore. With my newfound interest in religion, I wanted to peruse that section.

After hunting down a clerk to unearth the tiny religion area, I perused the shelves.
That's some pretty fierce determination. Reminds me of Caesar's stark report to the Roman Senate on his battle with Pharnaces II of Pontus, "I came, I saw, I perused."
In actuality, the area should have been called the Anti-Christianity Section.

While there were respectful tomes on the other religions, the Christianity section was a virtual pillorying of Jesus.
Shocking, I agree. That kind of thing has no place in a bookstore, which is supposed to cater to, even foster, an atmosphere of intellectual curiosity and openness. Virtually pillorying Jesus is a pastime that's much better left to some of the kinkier Catholic roleplay areas of Second Life.
Every book denounced him, mocked him, or reinvented him as something entirely new. There were books debunking the Gospel, with each author sounding gleeful, like a wicked child.

Now, I understand that some people reject religion. But why the venom? The contempt, the need to torpedo Christ?
Gleeful but contemptuous children always attack the Savior with venom-tipped torpedoes. We tried training sea snakes to attack him while he's walking on water, but they're all draftees and lack the necessary gung ho and esprit de corps, so our best strategy is to use a submarine to track the Messiah with passive sonar, running silent, running deep until he reaches the middle of the Dead Sea. Then we rise to periscope depth and fire our fish. If we're lucky, he'll get confused and accidentally multiply the fish so he goes up in a really big explosion.
This campaign against Christianity isn't confined to an obscure Berkeley bookstore. And it didn't begin with Obama. There's been an active crusade for decades to try to destroy Jesus with Alinksy-like[sic] tactics: freeze the subject, humiliate, marginalize.
Please allow me to introduce myself
I'm a man of wealth and taste.
I've been around for a long, long year,
Stole many a man's soul and faith.
And I was round when Jesus Christ
Was subjected to Alinsky-like tactics such as freezing, humiliating and marginalizing.
Pleased to meet you!
Hope you guess my name…
"Saul Alinksy?"
"Uh…It's Alinsky, actually, but, uh…Yeah. That's right. (SIGH) Here…you win the plush panda."
But while demonizing Christianity is nothing new, it's reached a fever pitch since Obama came on the scene. It's no wonder: Obama sent out clear messages from the start.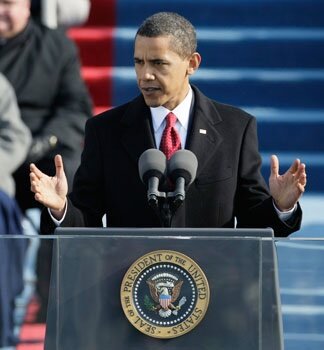 First, I believe that this nation should commit itself to achieving the goal, before this decade is out, of placing a mildly irreverent pop-up book about Jesus in an obscure bookstore in Berkeley…
Obama's first interview as president was for an Arab broadcaster. Then he covered up a cross at Notre Dame and was a no-show on the National Day of Prayer.

Lately, it seems like open season on Christians. The Pope has been subjected to unprecedented condemnation, with atheists Richard Dawkins and Christopher Hitchens plotting ways to have him arrested.
Actually, that seems more like open season on child molestation, which does sound kind of unfair, since pedophiles have traditionally been hunted in May, along with the spring gobblers.
Comedy Central plans a cartoon show mocking Jesus. On the TV show Curb Your Enthusiasm, Larry David does something so offensive that I will only offer you a link.
That would be the Curb episode where Larry is taking some drug with diuretic side-effects and he pees so hard that some of the backsplash hits a portrait of Jesus over the toilet. The woman who owns it immediately assumes that the image is miraculously weeping, and Larry feels awkward about raining on her parade after golden showering her Messiah.
In the past I would simply put on my therapist cap with people like these. I'd probe their childhood for evidence of maltreatment. I'd label them as narcissists and antisocial personalities.
Which is how I plan to get therapy from Robin without paying for it — all she has to do is walk past a copy of , and she'll be psycho-analyzing the hell out of us.
But now I have a different worldview, one that goes much deeper than just the psychological. Now I understand that this world is infused with the Divine. And that there is a competing force, one that is the polar opposite.
…a force that didn't star in a series of John Waters films
I now have a word for that creepy feeling deep down in my gut. And I finally understand the source.
Excellent! I think we've made a breakthrough. Unfortunately, that's all the time we have today –
Now I see what's really behind the campaign to banish religion; it's to render us utterly helpless. Because after all, without God, what protection is there in this brutal world?

Sadly, grievously, I look out on my country. I see the corruption and undoing. I witness the ever-growing tsunami of hate that threatens everyone in its path.

And I see citizens oblivious to the dangers because they're mired in the slime of moral relativism. They have no language, no hiding place, no possible way to shield their children in the deep and darkest nights.
Geez! One guys steps on a cicada, and suddenly it's The Road.
And I see that lunatic, the one with the crazy, hollow eyes. But he's not just on Telegraph Avenue.
"Wherever there's a guy beatin' up on a bug, I'll be there…"
He's far and wide: in the hallowed halls of Congress, in the institutes of higher learning, in basement rooms where small men troll.
I don't care how small you are; if you can troll in your basement, you really ought to check to see if your water heater is leaking.
If you listen closely, you can hear that same diabolical cry: "I want what you have.
That's the same diabolical cry I often hear at Baja Fresh when I order the Mahi Mahi Crispy Tacos but my companion unwisely went with the Bare Burrito.
And if I can't have it, I'll destroy it."
Curiously, this is the same thing Robin says to her clients when talking about their sanity.