Thought I'd take a stroll around the Boulevard and environs and check out our friendly neighborhood golems.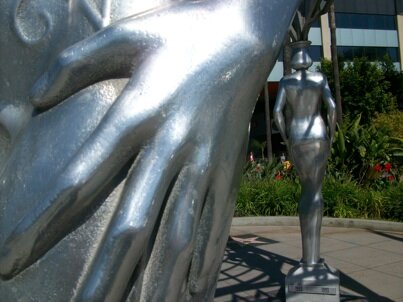 Let's get this party started with a rare upskirt shot of Christopher Columbus:

Ernie and his Rubber Ducky, all grown up…




"Hey, can somebody throw me a magazine?"

James Dean for New Maximum Strength Excedrin:

"We had a wall/Just like Bogie and Bacall…"

June is bustin' out all over:

Touchdown Oscar!

"Sir, please don't touch the monkey fur…"


Shelob Welcomes You to Hollywood!



Little Orphan Akhenaten:

Kiss the Creepy Marilyn!

Spider-Man, Lord of Dogtown: