A quick follow up to our post on Large, Free-Roaming Fetus Mark Crutcher, who spent the weekend soiling his diaper over the bloody-toothed, godless Marxist in the White House and his habit of siphoning the Treasury to fund abortions.  According to an email I received from Tucker Carlson's Daily Caller, Mark can relax and sprinkle a little Gold Bond Medicated Powder on his throbbing and erubescent outrage, because women (that is to say, "baby killers") are irritated by Obama's failure to secure full reproductive health coverage in the federal insurance exchanges.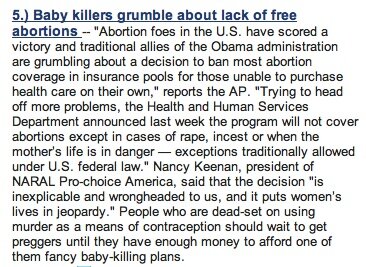 I suspect the blurb says "People…should wait to get preggers," rather than "women," because women are the natural enemy of the Goo Warriors Who Wield the Sperm Spear, and as we all know from our freshman Myths and Folklore course, to name a thing is to give it power.  So it seems pretty certain that whoever prepared this précis is a man.  Sure, there are plenty of nutty, hateful, blame-finding ladies in the right blogosphere, but to suggest that any woman who's had an abortion is a murderer seems to savor more of the bitter resentment and sullen impotence that gives birth — paradoxically —  to movements like the Post-Abortive Men.  Which makes me suspect that whoever wrote this doesn't know a lot of women (and when he does meet one, he tends to point his finger and shriek in the manner of Donald Sutherland at the end of Invasion of the Body Snatchers).
So I'm guessing the author is Sean (Jim Treacher) Medlock.  Not simply because he strikes me as a guy who may have issues; I've wondered for a long time if he's the author of these teaser emails because there's just something about the tone that reminds me of his famous penchant for aping the form, but not the content, of comedy. His posts, as you've probably noticed, are all sort of  breezy and irreverent, while at the same time curdled and unfunny, and the result is rather discordant — like a mean junior high girl who writes her slam book in the style of a Gregorian liturgical recitative.
There are those who disagree, of course, including Treacher's Wikipedia page, which notes that his blog on the Daily Caller "is entitled The DC Trawler (a pun on 'D.C.,' and on the multiple meanings of 'Trawler')."  Additionally, it informs us that:
Treacher has been involved in other comedy projects within the humorous neighborhoods of the blogosphere, including joint endeavors with…Iowahawk, a short film project, and some work for Greg Gutfeld's Daily Gut. He's also had his material read out loud on Dennis Miller's radio show.
…thus continuing the theme of duality in Medlock's work, with a Wiki entry that manages to pose as a testimonial while acting as an indictment.  Anyway, the most depressing thing I learned from Sean's bio is that while he's a native of Indianapolis, Indiana, he pulled up stakes and moved to the nation's capital without first being punched by Doghouse Riley.
So be alert, boys!  The barista who serves you your Orange Mango Vivanno Smoothie at Starbucks, your supervisor at work, even the woman lying next to you in bed, may be…a MURDERER!  And since most women who have abortions also have, or go on to have children, I propose that we stop looking the other way and start speaking frankly.  From now on, Mother's Day will be Murderer's Day; and if Hallmark is smart, they'll hop onboard with a series of I Know What You Did Last Summer-style cards from the victims, while FTD could offer a special Withered Rose Bouquet, endorsed by the ghost of Merlin Olsen.
Of course, I'm just spitballing here — how do you guys think we should celebrate Mom and her many murders this year?
UPDATE: Mr. Treacher harks to his name and obligingly appears, à la Candyman, to inform us that he does not, in fact, write the DC Morning (which is a pun on "D.C.," and on the multiple meanings of "Morning").  Duly noted, Jim, and thanks for stopping by.