Over at The Astute Bloggers, the CAPS LOCK-challenged Reliapundit continues to scream casually, opening with a quote from Obama which is notable for its strange, if correct, punctuation (either because he cut and pasted it from a more timid news source, or because the President's pusillanimous words don't DESERVE THE POWER OF THE MIGHTIEST OF ALL KEYS!  CAPS LOCK!)
"We celebrate the principles that are timeless, tenets first declared by men of property and wealth but which gave rise to what Lincoln called a new birth of freedom in America — civil rights and voting rights, workers' rights and women's rights, and the rights of every American," Obama said from a White House balcony with first lady Michelle Obama at his side.
This statement, so outrageous in its passivity, drives Reliapundit to simultaneously sneer and shout, which is risky, as there's always the chance your face will freeze like that, and you'll have to go through life looking like Conrad Veidt in The Man Who Laughs.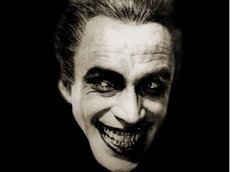 "MEN OF PROPERTY AND WEALTH."

PASSIVE. [...]  AS IF THEY JUST HAPPENED TO HAVE PROPERTY AND JUST HAPPENED TO BE WEALTHY.

NOT THAT THEY TOILED FOR IT AND WERE ENTITLED TO KEEP THE FRUITS OF THEIR LABOR.

LEFTISTS THINK THE RICH GOT THEIR MONEY UNFAIRLY AND THAT MONEY GROWS ON TREES
Which unfortunately has to be harvested by slaves or illegal immigrants, because that's one of those jobs that Americans won't do.
OF COURSE THE SUBTEXT OF THIS COMMENT IS ALSO THAT THE FOUNDING FATHERS WERE WHITE SLAVEHOLDERS – ANOTHER OLD LEFTIST CHESTNUT
WHICH OBAMA – AS POTUS – SHOULDN'T HAVE UTTERED ON THE DAY COMMEMORATING OUR NATION'S BIRTH.
If Congress had any balls, they'd impeach him for high crimes and subtext.
OBAMA: WHAT A PIECE OF ANTI-AMERICAN LEFTIST CRAP.
Later, Reliapundit notices Frank Rich, a "LARD-ASS LEFTIST PIECE OF CRAP," who compounds the President's felony by transforming "THIS SAME OLD LEFTIST CHESTNUT" into actual text:
"ALL men may be created equal, but slavery, America's original sin of inequality, was left unaddressed in the Declaration of Independence signed 234 years ago today."

SHEESH: AS IF LIBERATING US FROM THE TYRANNY OF BEING SUBJECTS WITHOUT RIGHTS TO A KING WASN'T ENOUGH ON THEIR PLATES!
By "US," I assume Mr. Pundit doesn't refer to the more than 600,000 lucky ducky slaves who weren't obliged to endure the "TYRANNY OF BEING SUBJECTS WITHOUT RIGHTS TO A KING" because they were merely property.  But all things being equal in American, the patriots' gilt lacquered tea caddies and Hepplewhite pianofortes also didn't have to suffer the indignity of being subjects.
IN FACT, THE ISSUE WAS ADDRESSED AT THE CONSTITUTIONAL CONVENTION (WHERE IT WAS FITTING AND PROPER TO ADDRESS IT) AND SLAVERY WAS ESSENTIALLY GIVEN A DEATH SENTENCE IN IT:

The Act Prohibiting Importation of Slaves of 1807 is a United States federal law that stated, in accordance with the Constitution of the United States, that no new slaves were permitted to be imported into the United States.

This act effectively ended the legal transatlantic slave trade. However, slavery continued in the United States until the end of the Civil War and the adoption of the 13th Amendment to the Constitution.

The United States Constitution, Article 1 Section 9 protected the slave trade for twenty years. Only after 1808 could laws be passed to end the slave trade.
This is why capital punishment is such a poor deterrent.  Judges can sentence a criminal to death, but then the defense lawyers will just drag out the appeals for twenty years until it reaches the Supreme Court, and then has to be settled with a war.  You makes you wonder why we even have judges.
REPEAT: "Article 1 Section 9 protected the slave trade for twenty years."

AMPLIFICATION:

THIS EFFECTIVELY WAS DEATH SENTENCE FOR THE SLAVE TRADE, ALBEIT IT ONE THAT REQUIRED A BLOODY CIVIL WAR TO ENFORCE IT:
So the "fitting and proper" — sorry — "FITTING AND PROPER" venue of the Constitution Convention actually protected the slave trade for a generation, and slavery itself survived for another seventy years, and only ended after the most destructive war in American history.  Maybe if the Founders had addressed the question in an ill-fitting and improper arena, they might have gotten a bit more traction.
ONLY LEFTISTS STILL DWELL ON THE "FOUNDERS AS SLAVEHOLDERS" MEME.  WHY?
Because it's relevant to a basic grasp of American history?   And because, you know, many of them were slaveholders, and by insisting that their right to hold fellow human beings as chattel be preserved, respected, and written into the Constitution, they guaranteed that the nation they were creating would eventually tear itself apart.
Here's a brief and incomplete list of Founding Fathers, including Presidents, signers of the Declaration of Independence, and delegates to the Constitutional Convention, who were slave owners:
George Washington, Thomas Jefferson, Benjamin Franklin, Patrick Henry, James Monroe, George Mason, Robert Morris, John Dickinson, Pierce Butler, Edward Rutledge, John Rutledge, William Whipple, Stephen Hopkins, George Wythe, Charles Carroll, Joseph Hewes, Richard Bassett, Luther Martin, and Daniel of St. Thomas Jenifer
BECAUSE IT'S ESSENTIALLY AN ATTEMPT TO DELEGITIMIZE OUR CONSTITUTION.

650,000 KILLED;
650,000 WOUNDED -
AND THE NATION'S TREASURE DIVERTED TO WAR FOR 5 YEARS.
Well, 4 years, but who's counting?  And on the bright side, only 360,222 died defending the United States Constitution.  The other 258,000 died trying to "delegitimize" it.
THEY WANT TO DELEGITIMIZE OUR CONSTITUTION BECAUSE AS STATISTS AND COLLECTIVISTS, LEFTISTS WANT A STRONGER STATE THAN THE FOUNDERS WANTED AND CREATED;
LEFTISTS NEED A STRONG STATE BECAUSE TO TO INFLICT LEFTISM ON THE PEOPLE YOU MUST FORCIBLY TAKE AWAY THEIR RIGHTS.
Not to belabor — or even engage — Mr. Pundit's idiotic point, but the phrase "FORCIBLY TAKE AWAY THEIR RIGHTS" seems to better describe what slaveholding patriots did to the men, women, and children they claimed to own, rather than what a democratically elected legislature and executive is doing by passing and signing legislation.  I mean, we're all for tropes and metaphorical language around here, and while we don't take the Teabaggers' slavery and Hitler allusions literally, it appears the Astute Bloggers do, so let's compromise:  I'll stipulate that fat and comfortable white people with the leisure time to attend Tea Parties are being enslaved by Congressional Democrats when they can doff their raggedy, homespun shirts and expose a starburst of welts and scar tissue raised by the Majority Whip's whip.

BY DELEGITIMIZING THE FOUNDERS AS SLAVE-HOLDERS, THE LEFT THINKS THEY LEGITIMIZE THEIR OWN USURPATION OF THE RIGHTS OF ANTI-STATISTS.
IT'S JUSTICE IN THEIR TWISTED MINDS, TIT-FOR-TAT.
WE CAN TEACH BARRY HUSSEIN SOETORO OBAMA JUNIOR AND FRANK RICH AND THEIR COMRADES A LESSON THIS NOVEMBER: VOTE FOR PATRIOTS; VOTE GOP!
Perhaps you could license this image for use on your campaign posters.  Just tell people it's Kenneth Gladney.