Mary and I want to hit the Pause button on the snark and take a moment to thank the many, astonishingly kind people who have contributed to the Beg-A-Thon.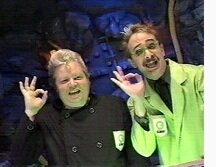 I had a lot of trepidation going into this (okay, "shame" might be a better word), but the response from the World O' Crap community has caused me to develop that same enlarged heart condition suffered by the Grinch, which is tremendously moving, but also a sign that maybe I should go easy on the roast beast, or at least stick to the white meat.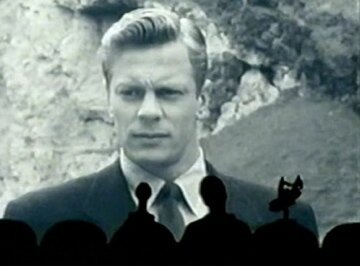 I learned almost too late that man is a feeling creature; and because of it, the greatest in the universe…
A surprising number of people (well, surprising to me, as I'm a misanthrope) have stepped up to help us — old friends o' the blog, some of whom are in reduced circumstances themselves, and yet still scrounged up cash to help; old-timers — some of them veterans of the Salon blog days — who I was touched to discover are still reading WOC; and a lot of people whose names were new to me, but who've nonetheless been dropping by regularly for the past few years. And as I was staring at all these emails in slack-jawed amazement, Mary looked over my shoulder and said, "I bet you feel a little like George Bailey."
It's funny because it's true.
And because, as you know, I kinda hate George Bailey.
I also want to extend my humblest thanks to the inimitable s.z., who — despite being the sole caretaker for a dozen rescue animals, some of whom have special needs (beyond the usual need to barf and pee all over her house) — very generously offered to write something for the Beg-A-Thon. It was like the super ninja assassin coming out of retirement for One Last Job, except she wound up contributing three posts, so it was sort of like the super ninja assassin rediscovered her taste for blood and really started tearing through the supporting cast. It was a joy to read her again, and though I know she doesn't have a lot of free time to surf the wingnut sites, I hope we'll see her back here again before long.
Actually, I know we will…
Thanks to you guys we've gotten some enormously welcome breathing space around here. I've been able to make things right with our hosting service, refill my cluster headache medication (which may help to stem another kind of service interruption), and — a small action item in the greater cosmic scheme, but a joyous thing for me nonetheless — I was able to reactivate my Netflix account, so we're now back at work on (which still needs a title, but that's a future contest). Anyway, s.z. and I will be posting some of the new material here as we start to hammer it into shape.
The PayPay button will remain in case anyone else wants to get in on the love (a few people wrote to say they were waiting til the end of the month, and to chide me for my crappy timing) or if you'd prefer the Pony Express, feel free to write to me at scott.clevenger-at-gmail.com for our snail mail address. But in the meantime, let's take a quick look at what's New in Wingnuttia today. First up, this eye-catching item from Tucker Carlson's Daily Caller: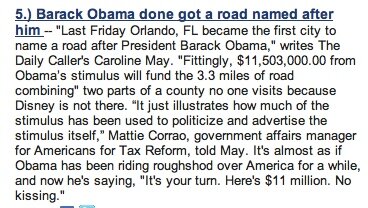 Daily Caller goes on to imply that at some point in the near future, the eponymous road will be used by Obama's feets, providing they do not fail him.

Over at RenewAmerica, Shermp, the Forgotten Stooge has repeatedly warned us that America is about to become a dictatorship! Then she warned us that it's become a dictatorship! Then it went back to just about to become a dictatorship! Now it's a dictatorship again! And I have it on good authority that tomorrow America will be Half-Dictatorship, Half-Peanut Butter Nougat.
The Obama slippery slope is gone and it's day 563 of our captivity
The slope is no longer slippery, folks.
This is invariably the sign that a democratic society is about to collapse; if you recall your Gibbon, the death of the Roman Republic became inevitable when Julius Caesar was appointed dictator perpetuo, and all the inclined planes in Rome became dry and scaly.
In fact, the slope is no longer visible.
I come from simple hill folk, and the first bits of woodlore my grandpappy taught me was, "always approach your prey from downwind," and "you can't see a mountain unless it's damp."
We-the-People are already tumbling head over heels down the mountainside.
If only the mountain had been moist, we might have seen it. Even worse, because it's so dry, We-the-People are getting slope-burn.
And said mountainside is Mt. Everest.
That's what we show biz folk call "the reveal."
For those of you who are still unaware, we are already living in and under the Obama Tyranny.
Well, to get technical about it, some of us are living in and around and out and about the Obama Tyranny (although a small number of us are living over and under the Tyranny just to be dicks about it).
You may have missed it but, you and we were forced over the cliff's edge with ObamaCare;
Oh, me know. And us feel sorry for I and them.
which was passed by Dictator-in-Chief Obama with the full knowledge and gleeful demeanor that he was forcing it against the will of the American people.
Well, at least he's .
After the first poison pill was shoved down our throats, there was nothing to stop The Obama.
He began shoving fistfuls of a fruited bread stuffing with raisins and pecans and apples down our throat. We're dead, but delicious.
He got away with it the first time and will now rule everything in true tyrannical fashion — without the need of a pesky legislative or judicial branch and certainly not the opposition votes from an increasingly aware US electorate.
The more aware the electorate becomes, the more quickly our democracy decays, so if you really care about liberty, you'll put down that newspaper and go watch The Jersey Shore. It's what John Adams would've done.
It was announced yesterday the Obama is seriously considering a blanket Amnesty for ALL illegals in the country.
But then he decided to get the Pigs-in-a-Blanket with a side of German potato salad, slice of honeydew melon, and an Arnold Palmer.
He plans to affect it via Executive (make that "Tyrant") Order. In that way, he can overturn the 2010 — and most certainly the 2012 — elections before they even occur.

We-the-People are now completely irrelevant.
We're also kind of clumsy, and even I and we have to admit it's hard to respect a You-the-People who are always screaming and flailing their arms as they pinwheel down a mountainside.
Regarding ObamaCare, Seniors are now being summarily dropped from care or refused treatment by their doctors who can no longer afford to treat them. And if there is still a November Miracle and the Marxists are removed from power, Democrats have already announced that they will employ a scorched earth policy and pass Cap & Trade which will bankrupt each and every one of We-the-People!
With these costly carbon credits, I'm going to have to shut down my E-Z Bake Coal-Fired Power Plant out on the balcony and go back to using it as a hibatchi.
Aren't these the treasons against the people that precede real revolutions? Folks, we have finally been backed into a corner with no way out but to fight. Still think we can last until November? Do you?
No, absolutely not! By early November you and we will be too bloated from gorging on Halloween candy to drag ourselves to the polls, so best to pick up a battle rifle at a gun show and launch a bloody rebellion now, while you and the rest of the RenewAmerica staff can still fit into your matching velour camouflage track suits.
Thanks again to the wonderful World O' Crap readers. You-the-People are not just good, you're