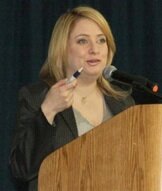 Debbie Schlussel — practicing attorney, semi-professional cable news guest, self-appointed film critic, and talented amateur harpy — added yet another accomplishment to a resume which already reads like Baron Münchhausen's c.v., when she noticed that Sonia Sotomayor and Jennifer Lopez are both of Puerto Rican extraction. This penetrating insight inspired Debbie to don the motley of political satirist and scale to such lofty heights of political humor that, ironically, the resulting hypoxia seems to make it impossible to laugh.
I can't help but notice that the sole reason So-So (my very appropriate name for Sonia Sotomayor) was chosen as Barack Obama's nominee for the U.S. Supreme Court is that she shares the life story of J-Lo, Jennifer Lopez.

In fact, the lyrics of the cheesy "Jenny From the Block" are basically the reason "Sonia from the Block" was chosen for the highest court in the land (minus the part about "put[ting] G-d first." It's just frankly, hilarious.
As you can see, even though Debbie's glamour shot is 15 years out of date, her comedy is cutting edge and topical.
Our President chose this chick because like, J-Lo, she's a Puerto Ricana from South Bronx who went from rags to semi-riches. And that's it. That's the whole reason. What a joke.
Say what you like about Debbie, she knows how to construct a rational, compelling argument. It's easy to see why she was attracted to the law, what with it's plentitude of de jures, ipso factos, and ad hominems.
Guess I'm gonna have to refer to her as "Justice J-Lo," once she gets confirmed by the Democrat dominated Senate. After all, neither J-Lo or So-So have set any remarkable legal precedent in their lives. Neither have achieved legal greatness, and one of 'em is about to become a legal Supreme.
While liberals may give lip service to notions of equality, Debbie reminds us that it's conservatives who truly cherish the ideal that all brown women with foreign names are equal (to each other). Regardless of differences in education or professional stature, as long as they're brown, be-bootied, and smelling faintly of salsa, a Circuit Judge of the United States Court of Appeals is the moral equivalent of a Fly Girl.
Here are the "Sonia From the Block" Lyrics. Obviously, I've substituted her name for "Jenny" and So-So's "robe" for J-Lo's "rocks." She might as well sing this at her confirmation hearing, as it's basically the Cliff's Notes version of what we've heard from and about her so far this week:
I'm not going to repost Debbie's entire parody here, for pretty much the same reason I don't dump used motor oil in our flowerbed, or empty the catbox into the vegetable crisper. But hey, if you've ever been curious to see what a SuperFund site looks like, but have no plans to visit New Jersey in the near future, by all means, click on through. And on your own head be it.
I'm goin' to bed.