Women in Prison pictures, like medieval morality plays, or Commedia dell'Arte, are comprised of several unvarying and indispensable archetypes:  There's the tender young protagonist — wrongly convicted, often framed by her own drug-dealing boyfriend, and frequently, if paradoxically, the only actress in the cast with a "no nudity" rider in her contract.  There's the lesbian alpha female of the cellblock, usually named "Cat," who begins as an antogonist, but often ends as an ally.  And finally, there's the villainous warden, who is often a bundle of contradictions — beautiful but twisted, powerful but needy, cruel but frightened — and usually played by Sybil Danning, Brigitte Nielsen, or most recently, Michelle Malkin, who has opened a re-education camp for Republican campaign staffers who were caught and exposed after attempting to creep off the reservation.
In a continually updated post entitled The McCain Campaign's classless cowards, Malkin opines that "[t]he anonymous trashing of Sarah Palin by blabbermouth McCain aides who are leaking to Fox News is disgusting. Absolutely disgusting," and notes that even if Palin is a grasping, lazy, oblivious ninny, you can hardly blame her for that.  If anything, it's an indictment of a campaign who correctly intuited a hunger in the electorate for a young, attractive, insanely conservative MILF who's not afraid to, oh, say, dress up in pigtails and a cheerleader outfit in order to keep her relationship with the base fresh and exciting, but which clearly picked the wrong one!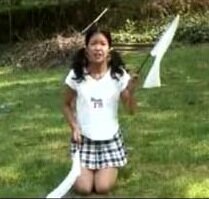 Regardless, Michelle deeply respects the way Palin stiffened the resolve of the Red States, and various other nether regions:
I didn't agree with everything she said on the campaign trail. But two fundamental conservative stands she took mattered greatly to me: She vigorously defended the Second Amendment and the sanctity of life more eloquently in practice than any of the educated conservative aristocracy.
Because she's both shot animals and birthed babies, taken life and given life.  If that doesn't scream Role Model, I don't know what does, although I admit it's kind of a high-pitched, keening scream, and when cleaning your ears afterward you may notice blood on the Q-Tips.
And she did it all with a tirelessness and infectious optimism that defied the shameless, bottomless attempts by elites in both parties to bring her and her family down.
And as we've all learned from watching Animal Planet, elites are a MILF's natural enemy.  Probably because the elites are bottomless, and they covet her shapely ass.
Shame on the smearers who don't have the balls to show their faces.

Thank you, Sarah Palin. Thank you for stepping up the plate and serving your country.
I also appreciate Sarah serving me and the rest of the country a plate of balls, although I'm pretty sure I ordered the 3-Cheese Frittata.