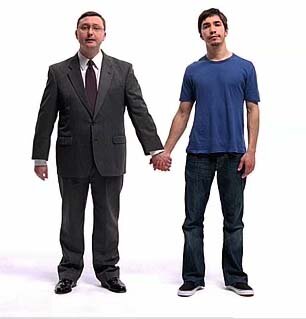 Dateline: Fairfax Avenue! Club: Largo! Why: Patton Oswalt and Friends! Who: John Hodgman!
How: First of all, unlike my close encounter with "Daily Show Funny Woman", Samantha Bee, we didn't actually meet "Daily Show Funny Guest John Hodgman"; we just happened to be standing behind him in line to get into the "Patton Oswalt and Friends" show last night. Just so you know.
Anyway, he looks exactly like he does on TV, although I don't know if he sounds the same. As an added treat, who do you think walked into Largo after we were all seated and waiting for our various drinks and things to arrive, and sat at John Hodgman's table? Justin Long! Yes, that's right! It was PC and Mac, out together for a night of comedy and really long waits for dinner and drinks.
So. There you have it. If you come to Hollywood and want to see stars, don't get a map, get yourself down to Largo on Fairfax Ave. on Mondays for Comedy Night!
And if you can't go to Largo for possible John Hodgman spottings, you can always read his fabulously funny, , or you can go to John Hodgman's blog: good evening. While there, be sure to follow his link to Jane Epenson's (former writer on Buffy: The Vampire Slayer and producer of the Sci-Fi series Battlestar Galatica) blog. Her newest post is about "punchline abuse"–the overused laugh lines sitcom writers beat to death like "That went well" and "Awk-ward!"