Due to popular demand (okay, it was only a couple of people, but they seemed really popular) our book, BETTER LIVING THROUGH BAD MOVIES is now available!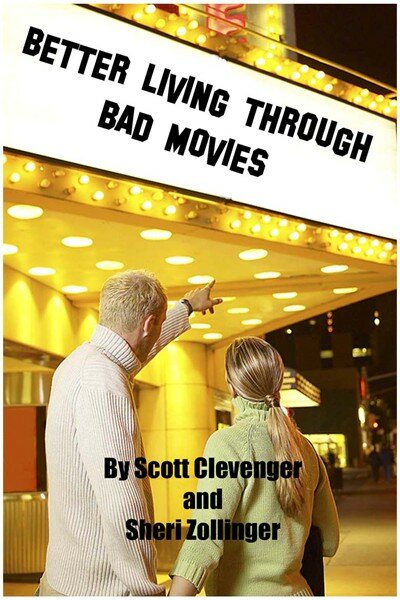 Here's the . Go there and buy several copies (or at least give it 5-star reviews).
Longtime readers will recognize this as the culmination of the Subliminal Cinema: Life Lessons From Lousy Movies project (we changed the title to avoid confusion with Metalstorm: The Destruction of Jared Syn). The book contains over 50 abusive reviews of extravagantly bad movies, both famous and obscure, and includes the complete and unabridged Red Dawn, with a new conclusion that reveals why Dick Cheney shot a man in Reno, just to watch him apologize.
Here's a bit from the Introduction:
President Woodrow Wilson recognized the enormous potential of motion pictures in 1915, when he observed, "It's like writing history with lightning, and my only regret is that it is all so true." Of course, he was talking about Birth of a Nation, in which the heroes were Ku Klux Klansmen and the villains were white guys in blackface, so he might more accurately have said, "It's like writing history in the snow with your own pee, and my only regret is that I didn't drink more beer." Still, he makes a good point.

Motion pictures have helped to shape social and moral values since The Kiss (1896) first taught women how to successfully maneuver the tongue past a highly waxed handlebar mustache. Movies have taught us how to love with honor (Casablanca), how to die with dignity (Whose Life Is It Anyway?) and how to sneak our semen into a friend's beer (American Pie). And yet, most films emerge so muddled from the design-by-committee development process that no matter what message the filmmakers think they're sending, it's almost never the same message we, the audience, actually get, assuming their movie says anything at all besides "Enjoy our cross-promotional merchandising deal with Taco Bell." Because of this tragic miscommunication, legions of filmgoers miss out on the edification to be found in movies like Coyote Ugly, Batman and Robin, and Battlefield Earth.

Anyone who has played Little League baseball is familiar with the dictum, "you learn more from failure than you do from success." Which means that all those hours spent watching crappy movies wasn't a waste of your precious and ever-dwindling life span; it was an education. And since each movie autopsied in this book fails on every conceivable level, it follows that you can learn a lot more from a film like Star Wars Episode One: The Phantom Menace than you can from Citizen Kane.

Take the Richard Gere/Winona Ryder romance Autumn in New York, for instance. On the surface, it appears to be the most cynical piece of emotional manipulation since The Triumph of the Will and yet, it contains the secret to forging a love that will last a lifetime (simply put: date the moribund). Indecent Proposal, on the other hand, shows how one can ensure a long and happy marriage through prostitution, psychoanalyzing cinder blocks, and sponsoring zoo animals, while troubled lovers will learn how to bridge the gender gap once they realize that — looked at a certain way —Beaches and Armageddon are exactly the same movie.
I hope you'll pardon our shameless promotion of the book, but we worked a long time on it, and besides, we're under orders from Kos to pimp the crap out of it.
Now, if I may add a personal message: blogging about presidenting is hard work. Dang hard work. And it doesn't pay that well — which is normally okay, since we bloggers don't really need much in the way of material goods (we have our moral outrage to keep us warm and fed). But I currently have kittens to feed. Adorable, playful, loving, little kittens — and I spent my entire monthly pay check money framing Rush for Viagra smuggling, and so have no funds left for kitten formula. You wouldn't want these sweet little ones to starve, would you? Well, WOULD you?
So, now is the time to support this blog. If you've read even one post and you don't buy a copy of this book, you're nothing more than a thief. A common thief!
Seriously, this is an actual book — and for those of you you like this kind of thing, it's just the kind of thing that you'll probably like. Please consider going to and buying a copy. It's the book that NewsMax, Ann Coulter, and Dick Cheney don't want you to read! But buy a copy anyway, okay?