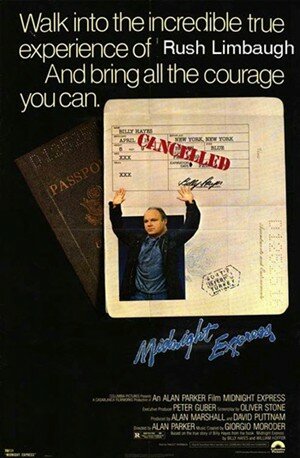 RUSH LIMBAUGH DETAINED AT AIRPORT
A Customs inspector going through the baggage of conservative radio show host Rush Limbaugh on Monday afternoon found 29 small blue tablets — a supply of the impotence drug Viagra.
Isn't swallowing a condom full of erectile dysfunction pills kind of redundant?
Limbaugh, 55, arrived on a private plane at Palm Beach International Airport from the Dominican Republic
Popular national destinations for sex tourists include Dominican Republic, Costa Rica, Cuba, and several countries in Southeast Asia, including India, Thailand, and Cambodia.
s.z. adds:  If Scott is right, and Rusty did go to the Dominican Republic for a sex tour, how sad is it that he came home with 29 pills left unused? 
Last month, Limbaugh cut a deal with prosecutors that would dismiss the prescription fraud charges in 18 months if he continued treatment for his painkiller addiction, submitted to random drug tests, and did not own a gun.
Well…he was obviously allowed to keep his love gun. 
He did not, however, have to admit guilt.
Because havin' a Love Gun means never having to say you're sorry.
I'm a sex shooter
shootin love in your direction
I'm a sex shooter
come on play with my affections
come on kiss the gun