A big thank you to s.z. for her analgesic posts of yesterday; it did my heart (if not my head) good to learn that John (Stash LaRue) Stossel is shoplifting his material from the likes of Dr. Mike Adams. It does come as a bit of a shock, considering that Stossel was, within living memory, a credible reporter and the co-anchor of a major network magazine show, but he's hanging around Townhall these days, and I suppose the peer pressure finally got to him. It's like my old granddad used to say — "lie down with dogs, get up with cupcakes."
But if we're footnoting Stash's sources, this raises the question of where Dr. Mike gets his ideas from. My guess is, it's Barbara Bush. Showing a teenager a Mason jar full of miscarriage just seems like the kind of thing Dr. Mike would threaten to do; in fact, I expect that any day now we'll hear reports of a man, naked but for a raincoat and a sports bottle full of embryos stuck in his jockstrap, leaping out of bushes at the University of North Carolina–Wilmington and exposing himself to co-eds. The campus cops will probably give him a snappy alias, like "The Fetal Flasher," or "The Spontaneous Abortion Bandit."
Speaking of unsavory characters darkening the doorsteps of the right blogosphere, R. Emmett Tyrrell is editor-in-chief of the American Spectator, although he is primarily famous for the circus midway-like assortment of Siamese consonants in his name. Today, however, he has decided to drop his daily fundament-muffin on the front page of Townhall.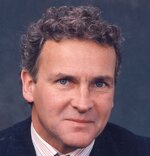 Hair from the Rand Paul Collection™
WASHINGTON — The other day, I sat down to breakfast. It was a normal day. Five daily newspapers were laid out before me. As I went over the front pages, I downed orange juice and a bowl of oatmeal powdered with brown sugar and flaxseed.
And if that doesn't turn his bowels into a log flume, nothing will!
Then I went off to my library with the newspapers and a cup of coffee. By then, incidentally, I was revolted.
Because my careless bibliothecary had shelved the several books of the Twilight saga in non-sequential order, with Eclipse preceding New Moon, while Breaking Dawn haunts some non-contiguous netherworld, between the non-fictional Twilight: The Complete Illustrated Movie Companion, and the non-canonical Twilight and Philosophy: Vampires, Vegetarians, and the Pursuit of Immortality (The Blackwell Philosophy and Pop Culture Series).
The New York Times carried on its front page a perfectly disgusting story. It was not a news story, for it broke no news. It was, rather, a feature story, meant to inform and, I presume, to move me to action.
Fat chance, broadsheet-borne bleeding hearts!
It was about the prevalence of suicide in Afghanistan by women who use cooking oil and matches to do themselves in, sometimes successfully, sometimes incompetently and all the more painfully. This was brought to my attention even before my matutinal coffee!
Fortunately, he was still slightly drunk from his crepuscular cocktails.
It is not the first time the Times — or, for that matter, The Washington Post — has put on its front page appalling stories that did not have to be there. Both newspapers run such feature stories on the front page rather regularly — but notThe Washington Times, not The Washington Examiner and certainly not The Wall Street Journal, my other three newspapers. They run repellent stories but usually inside. I think it tells you something about the biases of these newspapers.
For instance, the Examiner feature, "John Boehner's Daily Ochering Ritual: Let a Smile Be Your Umber" was buried in the Lifestyle section.
The New York Times and The Washington Post share a liberal bias, and their preoccupations are increasingly morbid. The Washington Times, The Examiner and The Wall Street Journal are biased toward the conservative position. They do not shy from reality but generally keep it inside the newspaper, at least when they can. Whether they have my oatmeal in mind, they, for a certitude, have the dignity of the individuals covered in the story in mind, I hope.
One Afghan woman who attempted to immolate herself spoke these chilling last words: "I hope the morbid liberal media exerts enough editorial discretion that they don't interfere with the laxative effects of their readers' morning bowl of whole-groat porridge with slivered almonds and Goji berries."
If the story had been breaking news, I would have expected all five newspapers to put it on the front page, but even then I would expect the conservative newspapers to desist from running pictures of corpses and mangled bodies. Certainly, the corpses would not be front and center — as they often are in the liberal newspapers — and faces would be covered.
In fact, when conservatives are in charge, the bodies are usually snuck into the country under cover of darkness, and no cameras are allowed at all. I mean honestly — is this the kind of thing you want to see before your morning constitutional?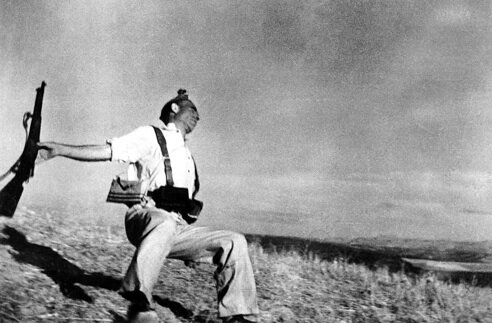 I don't know how my grandparents choked down their Postum and Cream of Wheat with this crap splashed across the front page of the East Zimmerman Courier – Telegram.
As I say, liberals have become morbid. They are obsessive about the gruesome and the gloomy.
As a sign of the times, UC Berkeley School of Engineering has just endowed the Jigsaw Chair in Baroque and Ironic Deathtrap Studies.
She was rushed to the hospital with burns over 60 percent of her body, and after two weeks of excruciating pain, she died. In the course of telling us of her death, the Times talks about other suicides and their causes. It tells us of these women's suffering. It is all quite pitiable, but what am I to do about it?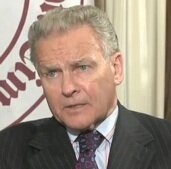 "Decline a second helping of organic corn meal breakfast pudding? Why, this matutinal morbidity has turned my hair so gray I'm going to have to schedule an antemeridian application of Just For Men®!"
Presumably, not much. I cannot even talk about it, for what it tells us about Islamic culture is not very favorable. Life, particularly a woman's life, is not cherished in Afghanistan. But we do not talk about it, even in America. It is not politically correct.
Sure, it's on the front page of the New York Times, but who reads that bunch of oatmeal-spoilers?
So the Times wrings its hands about the fate of women in Afghanistan and goes on. Perhaps tomorrow the paper will be talking about the fate of women in Kenya or dogs in Indonesia or a fabulous new disease. It is all of a piece with the liberal preoccupation with the morbid.
"It disgusts me that we are so pusillanimous and politically correct that we as a nation lack the intestinal fortitude to honestly grapple with these issues that I don't really want to talk about."
Actually, two days later, the Times pictured on its front page a young woman lying on a floor on some kind of pallet. She is in an isolation tent, but it is not very sanitary. Supplies are piled around her. She is forlorn. The caption reads "Cholera Moves Into the Beleaguered Haitian Capital" and goes on to explain: "A woman suspected of having cholera, in an isolation tent in Port-au-Prince, Haiti. An outbreak has spread into the city." Again, what are we to do?
Waste our Beautiful Minds?
Well, I suppose we can send money, more money. We certainly cannot help the victims in Haiti in any real way. Nor can we aid the women of Afghanistan.
There any Cinnamon Streusel muffins left?
We can share the liberals' morbid preoccupations or do what I usually do: read the liberal newspapers last
"That's when I make my 'donation,' so to speak. Heh heh heh."