Chris, let me add my happy wishes to the stack there on the mantle. Like others have noted, Chris is a long-time favorite around here (and as such, is entitled to our "super secret snark" reserved for founding members). I remember the days when my fingers would automatically type "Christ V" whenever I mentioned him, and eventually the name stuck, and then he died for our sins.
Anyway, I wish you the happiest of birthdays, Chris, and because Scott has already inflicted the traditional Coulter torture on you, I will just share with you this appalling photo.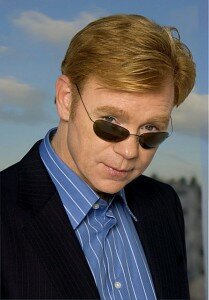 Besides being Chris's birthday, today is also All Saints' Day. Per Wikipedia, All Saints' Day honors "all the saints, known and unknown." And hey, that just might include some of you!
Also, there are many Saints who are known, but not all that notable, and probably wouldn't get honored any other day. For example, one St. Alkeld: "Nothing is documented about her life, but she is depicted in a painting as being strangled by Dane invaders." Which probably wasn't a lot of fun, but doesn't really inspire many people to live better lives these days.
But one good thing about Saints, there seems to be one for every purpose you can think of. Here are a few from the list, chosen more or less at random:
~ Saint Anthony the Patron of Lost articles, the Poor, Amputees and Cemetery workers

~ Saint Benedict the Patron of Monks and Poisoning
~ Saint Bernadine the Patron of Advertising
~ Saint Bernadino the Patron of Impulsive and uncontrolled gambling

~ Saint Christina – Millers, Insanity and Psychiatrists

~ Saint Maurice the Patron of Infantrymen, Cramp and Swordsmiths
~ Saint Maximilian Kolbe the Patron of Drug Addiction
~ Saint Michael the Patron of Battles, Germany, Grocers, Police officers, Radiologists, Seafarers
~ Saint Monica the Patron of Alcoholism, Bakers, Brewers, Children, Coopers, Greece and Peace
~ Saint Nicholas/Saint Dorothy the Patron of Brides
~ Saint Norbert the Patron of Peasants

~ Saint Scholastica the Patron of Convulsions in Children and rain
~ Saint Sebastian the Patron of Athletes, Enemies of religion, Gardeners, Iron mongers, Undertakers
~ Saint Stephen the Patron of Austria, Casket makers, Hungary and Stone masons
~ Saint Swithin – Weather
~ Saint Theresa of Avila the Patron of Headache sufferers
Anyway, your assignment to commemorate the holiday is to either pick your patron saint (from the link above, or any other official Catholic saint list, or your imagination, or whatever), and say why he or she is getting that honor.
Or, make up a patron saint for a group, situation, or attribute that seems to be patronless. For example, I suggest that the Catholic Church beatify somebody who can be the "Patron of finding a parking place when you're running late and really need one." Or perhaps St. Sebastian could add that to his list. I also note that as St. Alkeld (the one who was strangled by Danes) has apparently not been chosen to be over anything, I recommend that she be made the patron of Altoids, stranglers, and being jumped on by big, overly-friendly dogs.
Now, get to work!