From The Daily Caller's teaser email, The DC Morning, which, as we've learned from Jim Treacher, is a pun on "D.C.," and the multiple meanings of "morning"…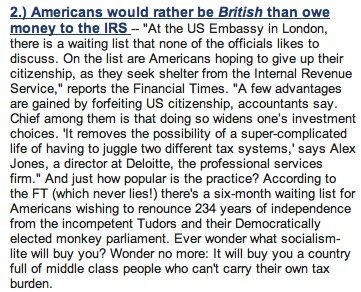 I must be getting old, but I gotta tell you, these kids today, with their meth, and their bow ties, and their cozying up to dynasties four or five periods before the Georgian era.  In my day, we renounced independence from the House of Hanover when we didn't want to pay our taxes, and we liked it that way.  But then the Tudors got that TV series, and it had a slim and buff Henry VIII, and showed a lot of skin, and now all the youngsters think it's much sexier to renounce them.
I'm a little unclear about that last part, however, because while I've admittedly done zero research on the subject, I somehow doubt that it's "middle class people" who are lining up at our embassy in London to renounce their citizenship for tax purposes. That seems like the sort of thing more characteristic of our dickish home-grown oligarchs, doesn't it?  But I will stipulate that the middle class is full of feeble, blood-sucking Fabians, because you can't argue with The Daily Caller, or you'll wind up looking like a pedant trying to correct a parrot's grammar.