From my friend PJ, who feels the picture of Palin, with her dead eyes and tight, Joker-like rictus, is worth a thousand words, marked down to seven if you order now:
"Please Buy My Insane Book. I'm Folksy."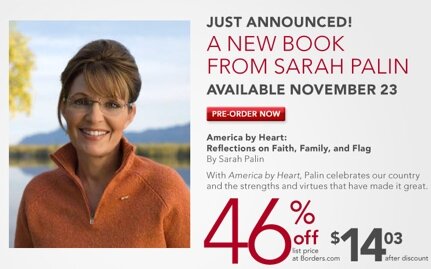 Half a year away from publication and America by Heart: Reflections on Faith, Family, and Flag has already been marked down nearly half off the cover price? I certainly hope her ghostwriter got a flat fee, or was working hourly.
Anyway, as powerful as the former governor's vision for America may be, her Faith, Family, and Flag will never beat McDonald's Food, Folks, and Fun!
(Mudflats has more.)